INDUSTRIAL PARKS IN MEXICO

History and Best Practices Based on Certifications
At the end of the Second World War (WWII), the United States and Mexican governments signed a bilateral agreement known as the Bracero Program. The program granted temporary work permits to Mexican workers to help relieve the labor shortages caused by United States workers who had enlisted in the military.
When the program ended 22 years later for various reasons, an influx of workers returned to Mexico, resulting in a severe unemployment crisis in the northern part of the country.
To help alleviate the crisis, local business people identified an opportunity to attract United States manufacturing companies to operate in the area to generate employment. These businessmen joined forces to work with the government, and the Maquiladora Program (today known as IMMEX) was established. The program allows the temporary tax-free import of raw materials into the country for processing. This, as the material will not remain in Mexico and only be exported once it is processed.

The Maquiladora Program was very attractive to US companies, causing a significant increase in demand for industrial spaces, especially in border areas. To meet this demand, the first industrial parks in northern Mexico were built.
But what is an industrial park exactly? The Mexican Association of Industrial Parks (AMPIP) describes it as "a defined, urbanized area with all the utilities, permits, and infrastructure for the optimal operation of manufacturing and logistics companies."
In Mexico there are a large number of industrial spaces. AMPIP's records show that to date, there are 368 industrial parks in 24 of Mexico's 32 states. This translates into 40 million square meters of industrial buildings and 3,417 companies operating in these, 62% of which are owned by foreign entities.

Some best practices to help ensure the success of an industrial park, practices promoted by AMPIP throughout Mexico, include assessing both the park's economic performance and its social and environmental performance. These factors help increase the park's competitiveness and stand out in the market.
To do this, parks can get various certifications that provide park tenants with the benefits of certainty, financial safety, compliance with regulations, peace of mind, and advantages for obtaining their own certifications, among many others.
Some of the primary certifications include:
 AEO (Authorized Economic Operator for Industrial Parks). This program was established in 2005 as part of the World Customs Organization's SAFE framework to support the facilitation of secure global trade. In other words, it works to guarantee safe and reliable foreign trade transactions.
In 2016, AMPIP led an initiative in collaboration with Mexican customs authorities (SAT) to become the first country in the world to create this program through an official government decree.

Safe Park Program. This program promotes the implementation of international standards and principles related to security, including: ISO 28000 (supply chain security management), ISO 31000 (risk management) ISO 27001 (information security), ISO 19011 (management systems),  International Ship and Port Facility Security (ISPS) Code, Customs Trade Partnership Against Terrorism (CTPAT), and Authorized Economic Operator (AEO), among others.
 Green Park Certification. This program was established in 2013 by AMPIP to recognize industrial parks that implement measures to reduce their consumption of water, electricity, and the emissions of pollutants into the environment.
 Mexico's Regulation for Industrial Parks (NMX-R046-SCFI-2015 granted by the Ministry of Economy). The goal of this regulation is to promote high-quality infrastructure. It stipulates the basic services an industrial park should offer, such as water, electrical energy, telecommunications, and the discharge of rain and wastewater. It also states that industrial parks should provide the following infrastructure: acceleration and deceleration lanes for accessing the park, paved roadways, concrete curbs, lighting on roadways, named streets, green areas, and signage, among others.
 Smart Parks. With the rise of Industry 4.0 and emerging global trends, AMPIP promotes innovation and the use of technology in Industrial Parks aimed at increasing competitiveness.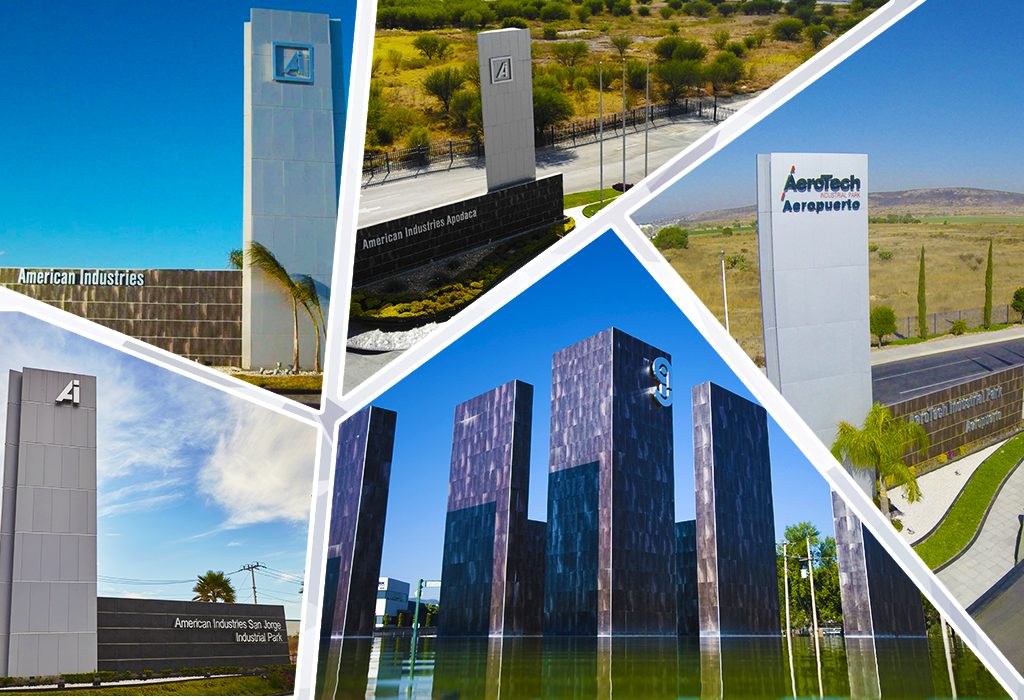 Social Responsibility, Environment and Governance Policies (ESG) for Industrial Parks. AMPIP, promotes the establishment of ESG policies as a factor with an increasingly significant impact on determining the value of companies, as it tends to help decrease risks in the long term.
As a provider of real estate solutions for the industrial sector, American Industries has been a proud member of AMPIP since its beginnings. Obtaining the certifications granted by AMPIP and actively promoting the advancement of best practices in industrial infrastructure in Mexico, are a must for the company.
*See the table listing certifications American Industries has obtained or is in the process of obtaining for Industrial Park Monterrey, Industrial Park Guadalajara, and Industrial Park Queretaro.
Fuente: https://www.ampip.org.mx/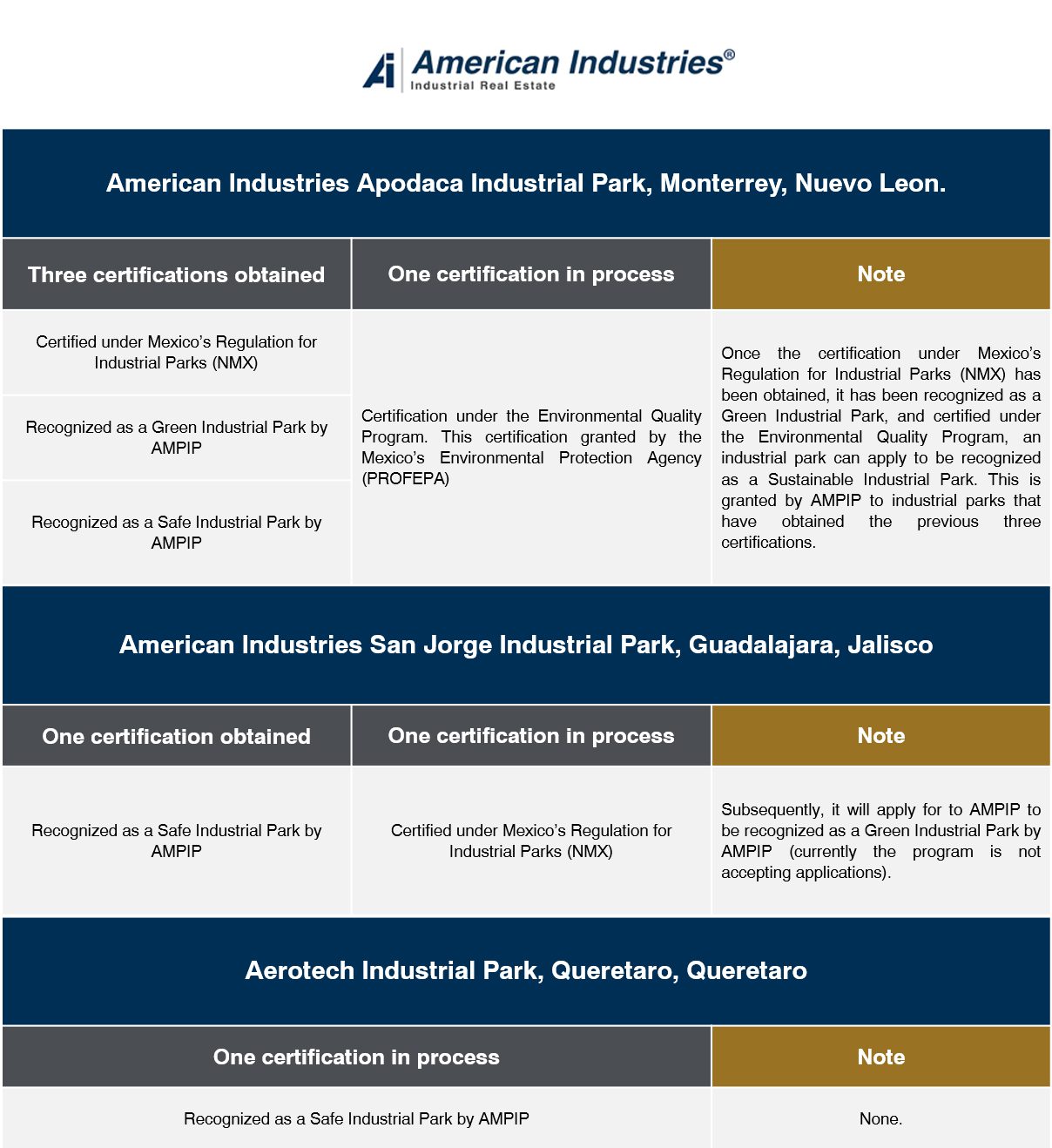 Por Karla Susana Bocanegra Gurrola

Gerente de administración de Propiedades

American Industries Group®
If you are interested in receiving more information about our properties or availability, please fill out this form and we will get in contact with you shortly.